Until September 11th
NEW: Water-Zorbing on the reservoir lake
Walking on water? Without getting wet? This might sound like a biblical miracle, but it's not. It's an epic summer activity for big and small. On the shores of the Kaiblingalm reservoir, step into a giant ball and stroll across the water.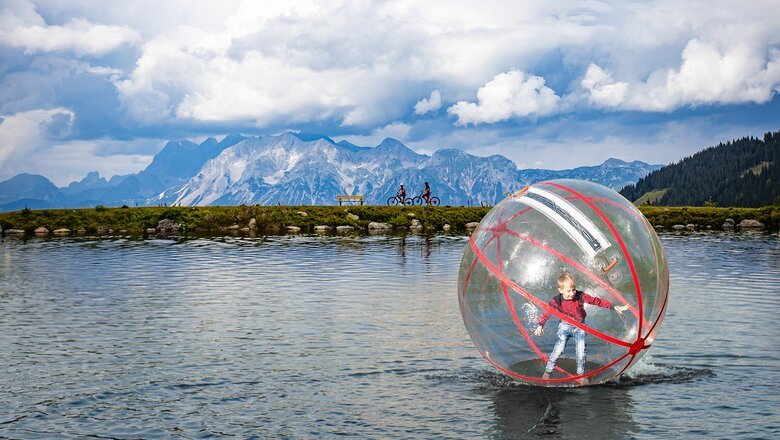 Four times a week, our Water Walking Ball Team supports your see-through adventure across the lake in the oversized spheres. After your water-walk, you can enjoy the scenery and unwind on the water's edge, admire the views of the Dachstein mountains, or have a bite in one of the cute picnic areas.
Informationen auf einen Blick
Öffnungszeiten Water Zorbing

7. Juli - 11. September 2021
Mittwochs, Donnerstags, Samstags und Sonntags
von 11.00 - 15.00 Uhr

Öffnungszeiten 8er-Gondelbahn &
Quattralpina

von Freitag, 25. Juni bis Sonntag, 26. September
8er-Gondelbahn: 9.00 - 17.00 (letzte Talfahrt)
Quattralpina: 9:15 - 16.30 Uhr (letzte Talfahrt)

Standort
Kaibling Alm Speicherteich
Kontakt

Tel.: +43 (0) 3686 3030
Mail: office@hauser-kaibling.at
Water Zorbing Preise:
*Eltern haften für ihre Kinder | Preise in Euro.
Standort: