Farmers Market, Fitness Workout, Pony adventures and more
Weekly program
The new weekly programme with water zorbing, animal feeding and kids' clubs promises unforgettable mountain moments.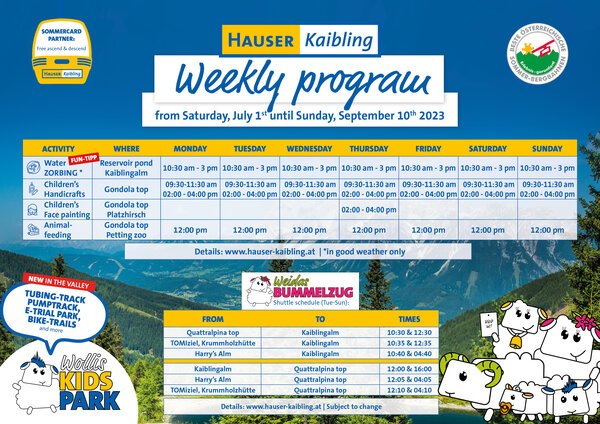 Once the 8-seater gondola, the 4-seater Quattralpina chairlift and the Tauern gondola reopen, Hauser Kaibling will bubble with life again. After a great winter season, the Hauser Kaibling team is very much looking much forward to seeing and spoiling you in summer, too.
Delightful holidaying made easy
Families can linger in the petting zoo, with sheep, lambs, goats, ponies, bunnies and mini pigs, or explore the Children's Adventure Path – suitable for pushchairs and prams. It has fun riddle stations leading to nature's jewel, Kaiblingalm, and to many play stations scattered across the mountain.
And the best is kids are free to roam the playgrounds, agility park and petting zoo while parents watch from only a few metres away at one of the halting places or huts.
Have you ever taken your kids to the top of a mountain? No? Well, now's the time – dive into the adventure! From the Quattralpina chairlift top station, it is only 30 minutes to the very top. We would love to see your entry in the summit booklet :).
For active nature lovers, join a hiking or E-bike tour along one of the many stunning routes. Take your pick of easy going to adventurous trails or step it up a gear on a challenging alpine tour.
Our cosy Alm huts off the beaten track are perfect for a relaxing break and a tasty bite to eat.
Rent an E-bike at the sports shop by the gondola base station.
Tip: Every Wednesday, there are guided E-bike tours.