Seal of Quality for Hauser Kaibling
Best Austrian Summer Lift
By satisfying 160 criteria, Styria's adventure mountain, Hauser Kaibling, with its unique offer, has been named one of the Best Austrian Summer Lifts in the Family category.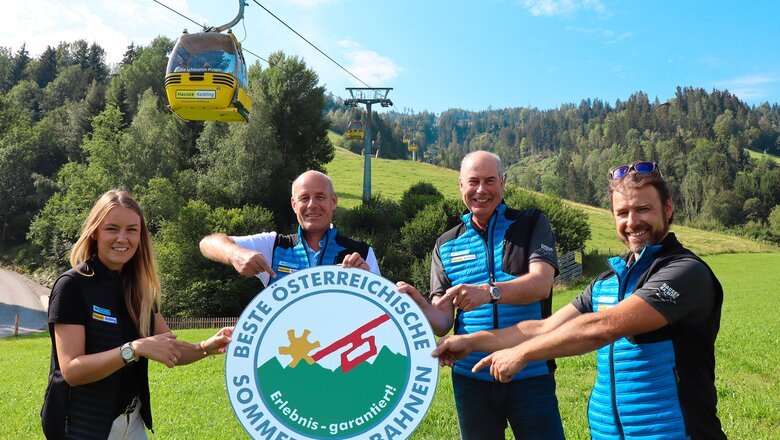 The Chamber of Commerce's industry union for ski lifts explore what activities are available for young and old, how impressive the offer is for children and how the lift celebrates summer in the Austrian mountains to stimulate tourism. An elaborate, challenging survey of domestic summer ski lifts whittles out a shortlist of the best. In the Family category, Hauser Kaibling qualified in Styria, so from now on, Hauser Kaibling can carry the Best Austrian Summer Lift quality seal. Everyone involved is delighted with this accolade, taking it as an incentive to stay on this successful track.

Authentic mountain adventure and meeting with nature a recipe for succes
"We are proud our Hauser Kaibling ideas for a sustainable, regional experience during the summer enthused both our visitors and the Chamber of Commerce's industry union for ski lifts, and we celebrate our award", said CEO Klaus Hofstätter. With the summer offer, Hauser Kaibling counts on the unique attraction of their 800 alpine sheep, an appealing weekly programme with farmer's market, fitness workout and a focus on E-bikers. Besides numerous signposted E-bike trails, there is an E-trial motorbike park for adults and kids over three years.
About the Best Austrian Summer Ski Lift quality seal
The Best Austrian Summer Ski Lift quality seal is a Chamber of Commerce's industry union ski lifts' initiative. The quality seal unites the experts and pioneers of the local summer mountain tourism inspired by Austria's ski lifts. Only those businesses fulfilling 160 quality criteria become the Best Austrian Summer Ski Lifts. Also, they need to specialise in one of the five themes - adventure, family, panorama and nature experience, treats, arts and culture – and recertify every three years.