Ski area Schladming-Dachstein & Ski amadé
Rates Lift Tickets 2023/2024
Check out all our ski pass options!
Discover the various Schladming-Dachstein ski pass options!
With a multi day ticket you can ski the entire region: Hauser Kaibling, Planai, Hochwurzen, Reiteralm, Fageralm, Stoderzinken, Galsterbergalm and Ramsau am Dachstein. Enjoy 231 kilometres of beautifully groomed ski runs, 85 modern ski lifts, as well as 97 traditional and cosy ski huts on one ski pass. If you purchase a lift ticket valid for 1.5 days and longer, the entire Ski amadé region is available to you: five ski areas with 25 ski resorts, more than 760 kilometres of ski runs with 270 ski lifts waiting for you. There are, of course, multiple day tickets & season tickets available, as well as discounted rates, special rates for groups, children and youth.
If you would like to experience the various Hauser Kaibling ski runs first, check out the most beautiful ski runs in Schladming-Dachstein here.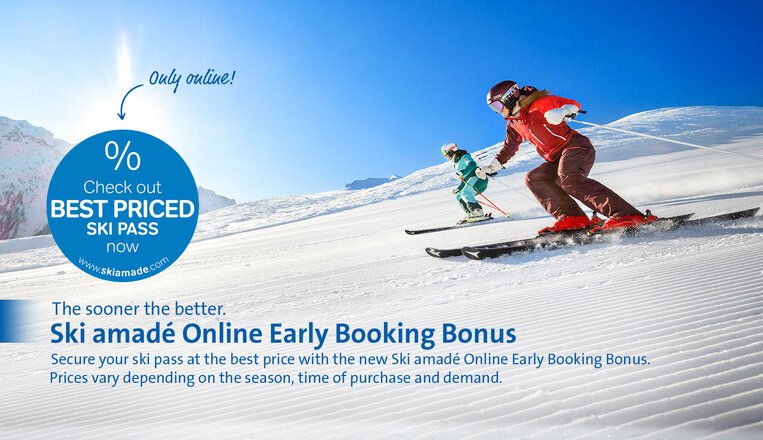 Cancellation guarantee on online ski pass purchases
Buy your ski pass at the online ticket shop with the cancellation guarantee and secure the possibility to cancel your ski pass up to 2 days before it is due to become valid. *
* Cancellation guarantee possible when purchasing multi-day tickets and selected day tickets in the Ski amadé online ticket store. Cancellation of ski passes only possible with the booked cancellation guarantee. The cancellation guarantee costs € 2,50 per day and ski pass. Cancellations can be requested by e-mail stating the order number and order name up to 2 days before the start of the ticket validity (e.g. ticket valid from Saturday, cancellation guarantee can be requested until Wednesday 23:59) without giving reasons to the selling company. Subsequent booking of the cancellation guarantee after the order has been completed is excluded.
General information about lift tickets and passes
The lift tickets are non-transferable
No replacement for lost lift tickets
Unexpected weather conditions will not warrant a refund
Refund only possible with a medical certificate
Reduced ski lift and ski run access during pre and post season does not warrant a price reduction

Age regulations
Adults: born 1997 and earlier
U25: born between 1998 and 2004 (ID required)
Youth: born 2005, 2006, 2007 (ID required)
Child: born between 2008 and 2017 (ID required)
Toddler: born 2018 and younger (ID required)
Key Card
100 % contact-free access to our modern ski lifts!
The key card is the size of a credit card and contains a little chip. Carry the card on the left side of your body and pass through the turnstile fast and contact-free.
Key cards are available for all ticket types.
Key card deposit: € 3. On return of the undamaged key card, your € 3 will be refunded. You can return the key card at all cash desks, at Sport Hauser Kaibling, at the WM-Arena and in all Hauser Kaibling ski huts.
Note on safety
To ensure best conditions every day, all ski runs are closed from 5.30 pm to 8 am. During this time, ski runs are groomed and snow making facilities could be in use. Use of the ski runs outside the opening hours is forbidden and will be prosecuted. Please note that even during opening hours snow-making facilities and snow groomers may be operating. Thank you for your understanding. CAUTION: ropes cross the ski runs!
Ski touring forbidden! Due to safety reasons, walking up ski runs with ski touring equipment is (24h) strictly forbidden.
Payment
Cash (euro), credit card (Mastercard, VISA and Diners), Maestro-Card (A,D,NL)
Excerpt from the General Conditions of Tariffs
Ski tickets are non-transferrable.
Misuse of ski tickets will result in a withdrawal of the ski ticket and the expulsion from the ski lift facilities. Furthermore, a fine of € 50.00 as well as the amount for a full-price day ticket has to be paid. The attempt to transfer the ski ticket to another guest is seen as misuse.
Every ski ticket holder must keep their ticket in such way that third parties have no access to it.
Forgotten or lost ski tickets will not be replaced.
Information according to § 24 DSG 2000 regarding "Photocompare": We draw your attention to the fact that in order to monitor access, a photo of reference of the ski ticket holder is made when first crossing the turnstile, where a camera is mounted. The photo of reference is compared to the photos taken by the ski-lift staff at every further crossing of a turnstile equipped with a camera. The photo of reference is deleted once the ski ticket's validity ceases, and any other photo is deleted 30 minutes after crossing the respective turnstile. We also wish to inform you that ski tickets that are configured in such a way that no photo is being taken when crossing a turnstile are available, but in that case you will have to face random checks by the ski-lift staff
Prices are subject to change.
Errors and omissions excepted.
All prices are in euro and include 10 % VAT.